Meet Dr. Jamaal Rahman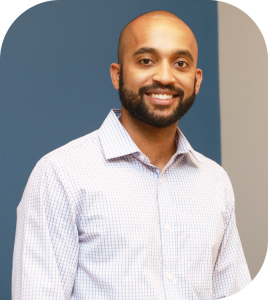 Growing up, Dr. Rahman's father went to a chiropractor to get help with pain. He had many health issues but didn't want to resort to surgery. Instead, a chiropractor who practiced the Gonstead Technique helped Dr. Rahman's father, naturally.
When Dr. Rahman injured his back playing football, he was unable to walk or even move. The agonizing pain just got worse and worse. He went to his father's chiropractor. Just by sitting in the reception area listening to philosophy videos, he started to feel hope for his condition and that he did not have to stay in pain. After experiencing care and having some talks with the chiropractor, Dr. Rahman knew just what his future path would be.
Trained In the Gonstead Technique
With a love of fixing things and helping others, chiropractic soon became Dr. Rahman's passion. He attended Palmer College of Chiropractic, where he sought out seminars for the Gonstead Technique, developing his skills and knowledge that he uses to this day. Dr. Rahman earned a Doctor of Chiropractic in 2018.
In his practice, Dr. Rahman is an attentive listener who is ready to address your every need. "I love seeing people coming in joyful and happy, knowing they're better after every adjustment they get."
EXPLORE CHIROPRACTIC

Life Is All About Family (and Chiropractic!)
Dr. Rahman is a family-oriented person. He and his wife, Monica, were high-school sweethearts. They have two sons, Kaden and Kash. Monica was adjusted throughout her pregnancies. Kaden is full of personality, a little chatterbox who steals the hearts of people he meets with his good manners and talkative nature. Kash is a baby, who is extremely calm despite being new to our world.
When Dr. Rahman has spare time, he enjoys going to the gym, particularly for weight training or MMA. He likes working on projects around the house or working on his car, or watching movies from a variety of genres.
Take the Next Step
If you want to learn more, there is no charge to sit down with Dr. Rahman and discuss whether you can benefit from what we do. Contact Burke Mill Chiropractic today!

Dr. Jamaal Rahman | (336) 968-1174